Documentaries 2011
Mila's Journey / El viaje de Mila
Country of production: the Netherlands
Language: English
Year of production: 2011
Director: Annie Perkins and Rinku Kalsy
Length: 65 min
Mila Jansen, an icon of sixties Amsterdam, returns to India after 30 years to the place where she lost her heart. Is the decision to go back a wise one? Or should remembrance just stay a beautiful memory?
Mila Jansen, un icono del Amsterdam de los años sesenta, regresa a la India, al mismo lugar donde una vez dejó su corazón. ¿Es esta una sabia decisión o debería la nostalgia continuar siendo un hermoso recuerdo?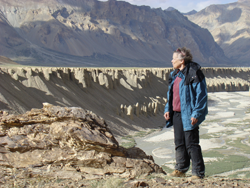 ART SUNDAY / Un domingo en MAM
Country of production: Brazil
Language: Portuguese (with English subtitles)
Year of production: 2011
Director: Letícia Simões
Length: 20 min
ART SUNDAY is an audiovisual walk through contemporary art experiments in Rio de Janeiro.
Un domingo en MAM es un paseo audiovisual por el arte contemporáneo en Rio de Janeiro.
Dinner with Pinochet / Cena con Pinochet
Country of production: United Kingdom
Language : English /Spanish