Awards 2007
Award for Best Animated Film:
Nominations:
Cold Calling, Director: Nick Mackie
Georg wächst (George grows), Director: Martin Schmidt
Coucou Clock, Director: Cailleau Francois
Winner: Coucou Clock
Award for Best Documentary Film:
Nominations:
Afghan Muscles, Director: Andreas M. Dalsgaard
The Forgotten Refugees, Directors: Michael Grynszpan, Ralph Avi Goldwasser
Rojeki Bafri (A Snowy Day), Director: Hossein Jehani
Winner: The Forgotten Refugees
Award for Best Short Film under 5 min:
Nominations:
Back to the fuchsia, Director: Toby Roberts
Fish Can't Fly, Director: Richard Murphy
I became… , Director: Ms. Arwa Mamaji
Winner: I became…
Award for Best Short Film over 5 min:
Nominations:
El Canto Del Grillo (Song of the Cricket), Director: Dany Campos
Interconnected, Director: Mark Mocahbee
Most (The Bridge), Director: Haris Bilajbegovic
Winner: El Canto Del Grillo
Award for Best Feature Film:
Nominations:
The Doorman, Director: Wayne Price
La Mirada De Clara (Clara's Gaze), Director: Pablo Torre
Fated (Predestinado), Director: Nicola Scott
Winner: Fated
Shorts 2007
4 Conversations about Love
Country: UK
Year: 2006
Length: 14 min
Director: Jessica Townsend
4 People, 4 Conversations, 4 Lives Changed. A man and a woman make love for the last time in the house in which they meant to raise a family. A father and daughter meet in a cafe for the first time in many years- and at first it feels like a date. A woman tells her girlfriend – the love of her life – that she is unexpectedly pregnant. A tormented stranger finds a woman and her baby and the encounter gives him the chance to confront his past. Four 'Short Cuts' style stories dealing with love, loss, and finally, grace.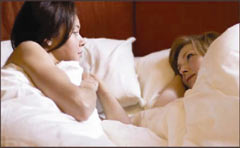 Armando
Country: ITALY
Year: 2006
Length: 15 min
Director: Massimiliano Camaiti
Although his physical appearance remains unchanged, Armando is victim of an increasing fear: to sink, vanishing completely. This morning he woke up weighing 120 kg…
Avatar
Country: SPAIN
Year: 2005
Length: 15 min
Director: Lluis Quilez Sala
Avatar: 1) Chance event that usually involves a sudden change in the course of something. Change of fortune. 2) Tests someone goes through. 3) Lack of application or alternation of prosperous and adverse events.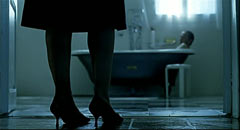 Back to the fuchsia / A Fullero Viejo, Flores Nuevas
Country: UK
Year: 2007
Length: 3 min
Director: Toby Roberts
In their garden of love he's sowing seeds of doubt, laced with jealousy. But she has ripe manure to feed his trust and, hopefully, help their relationship flower.
Banal
Country: SPAIN
Year: 2006
Length: 11 min
Director: David Planell
As all teenagers, Ainoa has had an exhausting school day. So this summer, for the first time, she has decided to go on holidays wherever she pleases, and not were her father decides. This is how father and daughter get into a long, tense and definitive discussion where the girls holidays in fact uncover certain issues that were not intended.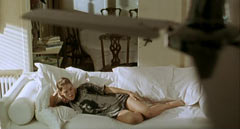 Conscious Life
Country: UK
Year: 2007
Length: 4 min
Director: Tobias Feltus
Synopsis: Conscious Life is a silent film which portrays the pain and delirium of love and tragedy. The short is presented as black and white, set in the late 1920s. The film shows a young photographer in his studio, haunted by the obsession of an unrequited love, and ensuing indifference towards his current lover. Waking from sleep in a dream-like sequence, his photograph on the wall and reality confuse their roles. Commissioned as a music video, the film is intertwined with the homonymous track by Aereogramme.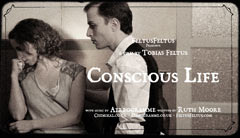 Drei Reisende / Three travellers
Country: GERMANY
Year: 2007
Length: 12 min
Director: Jan Thüring
Three passengers meet each other in a train. Everyone has a secret!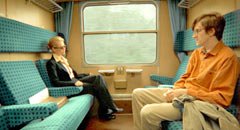 El Canto Del Grillo / Song of the Cricket
Country: SPAIN
Year: 2006
Length: 17 min
Director: Dany Campos
Joseba Perurena, a young terrorist, wants to start a new life together with his girlfriend. However, cutting ties with the past is never an easy thing to do especially when the consequences have not been fully considered.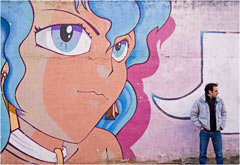 El Relevo / The Relief
Country: SPAIN
Year: 2006
Director:David Gonzalez
He works at night. She works at day. They have been trying for more than three months and still nothing has happened.
Fish Can't Fly
Country: ENGLAND
Year: 2006
Length: 3 min
Director: Richard Murphy
In a high-rise flat, a pet fish with a suicidal death-wish edges towards a fatal drop, as an audience below endeavours to save its life.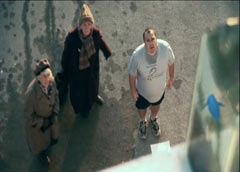 Hunter
Country: UK
Year: 2006
Length: 11 min
Director: Nigel Douglas
Two unnamed men begin on a journey on a night that is predestined for them. A beautiful woman is their target but what drives them is an obsession that only they understand.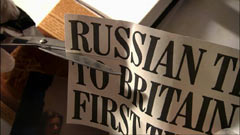 I became…
Country: INDIA
Year: 2006
Length: 5 min
Director: Ms. Arwa Mamaji
The film revolves around a little street child who is looking for some food. We see him walking around the city with his only companion the balloon. Through his journey he observes everything that life has to throw at him. Yet he is a child without any worry except one basic need. Food. The film is about materialism and how it has started governing our lives. Our primary needs are taken for granted and we are caught up in a fictitious world glazed with glamour and pride. We cannot look through the tainted glass and even if we can, we pretend to ignore it and push it into the furthermost part of our subconscious.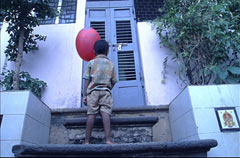 Interconnected
Country: USA
Year: 2007
Length: 13 min
Director: Mark Mocahbee
The line between a gift and a curse is never clear. Richard is tortured by horrible visions of other people's fate. Marcus sleeps with as many women as he can. Maggie waits with a gun. When these three people's paths cross, nothing will ever be the same.
Kolaborator
Country: USA
Year: 2007
Length: 14 min
Director:Chris Bessounian
During the conflict in the former Yugoslavia many soldiers were convinced to kill fellow citizens including friends and relatives in the name of patriotism. The Kolaborator follows the story of Goran, 24, a pr