Awards 2007
Award for Best Animated Film:
Nominations:
Cold Calling, Director: Nick Mackie
Georg wächst (George grows), Director: Martin Schmidt
Coucou Clock, Director: Cailleau Francois
Winner: Coucou Clock
Award for Best Documentary Film:
Nominations:
Afghan Muscles, Director: Andreas M. Dalsgaard
The Forgotten Refugees, Directors: Michael Grynszpan, Ralph Avi Goldwasser
Rojeki Bafri (A Snowy Day), Director: Hossein Jehani
Winner: The Forgotten Refugees
Award for Best Short Film under 5 min:
Nominations:
Back to the fuchsia, Director: Toby Roberts
Fish Can't Fly, Director: Richard Murphy
I became… , Director: Ms. Arwa Mamaji
Winner: I became…
Award for Best Short Film over 5 min:
Nominations:
El Canto Del Grillo (Song of the Cricket), Director: Dany Campos
Interconnected, Director: Mark Mocahbee
Most (The Bridge), Director: Haris Bilajbegovic
Winner: El Canto Del Grillo
Award for Best Feature Film:
Nominations:
The Doorman, Director: Wayne Price
La Mirada De Clara (Clara's Gaze), Director: Pablo Torre
Fated (Predestinado), Director: Nicola Scott
Winner: Fated
Shorts 2007
4 Conversations about Love
Country: UK
Year: 2006
Length: 14 min
Director: Jessica Townsend
4 People, 4 Conversations, 4 Lives Changed. A man and a woman make love for the last time in the house in which they meant to raise a family. A father and daughter meet in a cafe for the first time in many years- and at first it feels like a date. A woman tells her girlfriend – the love of her life – that she is unexpectedly pregnant. A tormented stranger finds a woman and her baby and the encounter gives him the chance to confront his past. Four 'Short Cuts' style stories dealing with love, loss, and finally, grace.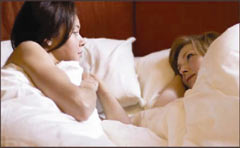 Armando
Country: ITALY
Year: 2006
Length: 15 min
Director: Massimiliano Camaiti
Although his physical appearance remains unchanged, Armando is victim of an increasing fear: to sink, vanishing completely. This morning he woke up weighing 120 kg…
Avatar
Country: SPAIN
Year: 2005
Length: 15 min
Director: Lluis Quilez Sala
Avatar: 1) Chance event that usually involves a sudden change in the course of something. Change of fortune. 2) Tests someone goes through. 3) Lack of application or alternation of prosperous and adverse events.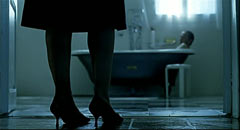 Back to the fuchsia / A Fullero Viejo, Flores Nuevas
Country: UK
Year: 2007
Length: 3 min
Director: Toby Roberts
In their garden of love he's sowing seeds of doubt, laced with jealousy. But she has ripe manure to feed his trust and, hopefully, help their relationship flower.
Banal
Country: SPAIN
Year: 2006
Length: 11 min
Director: David Planell
As all teenagers, Ainoa has had an exhausting school day. So this summer, for the first time, she has decided to go on holidays wherever she pleases, and not were her father decides. This is how father and daughter get into a long, tense and definitive discussion where the girls holidays in fact uncover certain issues that were not intended.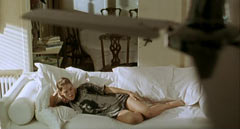 Conscious Life
Country: UK
Year: 2007
Length: 4 min
Director: Tobias Feltus
Synopsis: Conscious Life is a silent film which portrays the pain and delirium of love and tragedy. The short is presented as black and white, set in the late 1920s. The film shows a young photographer in his studio, haunted by the obsession of an unrequited love, and ensuing indifference towards his current lover. Waking from sleep in a dream-like sequence, his photograph on the wall and reality confuse their roles. Commissioned as a music video, the film is intertwined with the homonymous track by Aereogramme.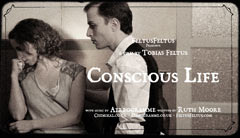 Drei Reisende / Three travellers
Country: GERMANY
Year: 2007
Length: 12 min
Director: Jan Thüring
Three passengers meet each other in a train. Everyone has a secret!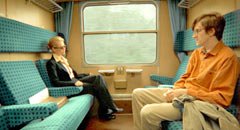 El Canto Del Grillo / Song of the Cricket
Country: SPAIN
Year: 2006
Length: 17 min
Director: Dany Campos
Joseba Perurena, a young terrorist, wants to start a new life together with his girlfriend. However, cutting ties with the past is never an easy thing to do especially when the consequences have not been fully considered.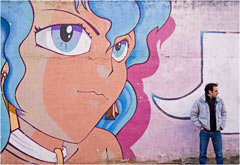 El Relevo / The Relief
Country: SPAIN
Year: 2006
Director:David Gonzalez
He works at night. She works at day. They have been trying for more than three months and still nothing has happened.
Fish Can't Fly
Country: ENGLAND
Year: 2006
Length: 3 min
Director: Richard Murphy
In a high-rise flat, a pet fish with a suicidal death-wish edges towards a fatal drop, as an audience below endeavours to save its life.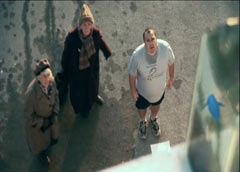 Hunter
Country: UK
Year: 2006
Length: 11 min
Director: Nigel Douglas
Two unnamed men begin on a journey on a night that is predestined for them. A beautiful woman is their target but what drives them is an obsession that only they understand.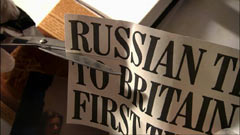 I became…
Country: INDIA
Year: 2006
Length: 5 min
Director: Ms. Arwa Mamaji
The film revolves around a little street child who is looking for some food. We see him walking around the city with his only companion the balloon. Through his journey he observes everything that life has to throw at him. Yet he is a child without any worry except one basic need. Food. The film is about materialism and how it has started governing our lives. Our primary needs are taken for granted and we are caught up in a fictitious world glazed with glamour and pride. We cannot look through the tainted glass and even if we can, we pretend to ignore it and push it into the furthermost part of our subconscious.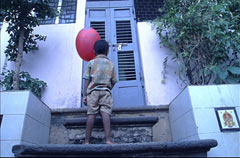 Interconnected
Country: USA
Year: 2007
Length: 13 min
Director: Mark Mocahbee
The line between a gift and a curse is never clear. Richard is tortured by horrible visions of other people's fate. Marcus sleeps with as many women as he can. Maggie waits with a gun. When these three people's paths cross, nothing will ever be the same.
Kolaborator
Country: USA
Year: 2007
Length: 14 min
Director:Chris Bessounian
During the conflict in the former Yugoslavia many soldiers were convinced to kill fellow citizens including friends and relatives in the name of patriotism. The Kolaborator follows the story of Goran, 24, a promising young soccer player who is forced to become a soldier. Goran goes from being a talented athlete to an executioner virtually overnight. Following orders, Goran lines up civilians, shoots them and drags them into mass graves. Justifying his role as a protector of his people, Goran becomes increasingly detached from the task until his soccer coach and life-long friend, Asim, is led in front of him. As a familiar face stands defeated before him, Goran must reconsider his actions and choose between his own life and that of his friend.
UOVA / Scrambled
Country: ITALY
Year: 2007
Length: 4 min
Director: Alessandro Celli
A bicycle, groceries from a supermarket around the corner, a rush home to cook breakfast. A morning like all the others.
LA PARABOLICA / The Parabolic Dish
Country: SPAIN
Year: 2007
Length: 12 min
Director: Xavi Sala
During the broadcast of the Pope's visit, Vicente's television is broken. Desperate, he decides to make a homemade parabolic dish.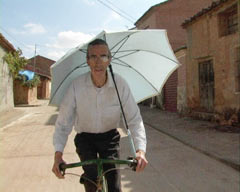 MOST / The Bridge
Country: AUSTRIA
Year: 2007
Length: 12 min
Director: Haris Bilajbegovic
…based on true events…Bosnia and Herzegovina 1992. Most of the people who took part in the film experienced this terrible happening in 1992. A main character in the movie is played by my grandfather. He was forced to leave his son, my uncle (Elvir Kadirik) behind on this bridge. On this day 13 young men disappeared. To this day there is no trace of them. The bridge never revealed her secret. -Haris
The Morning After
Country: CANADA
Year: 2006
Length: 9 min
Director: Casey Walker
The Morning After is an un-romantic comedy in which a couple awaken after a one night stand and try to recall the events that led them to wind up in bed together.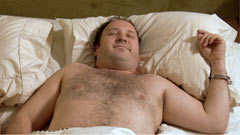 Nijuman no borei
Country: FRANCE
Year: 2007
Length: 10 min
Director: Jean-Gabriel Pariot
Pepita Chan
Country: SPAIN
Year: 2007
Length: 13 min
Director:Miguel Campion
Pepita Chan does not want to make a short film just like the others. That is why she starts doing a 'making of her movie' from the very first moment of its conception. Pepita is looking for the film she has inside, experimenting with different genres and subjects to find out what she wants to talk about. The guidance from a charismatic guru will be crucial for the development of her quest and its ending.
Sarean / In The Net
Country: SPAIN
Year: 2006
Length: 4 min
Director:Asier Altuna
A short documentary about fishing in the Northern Seas. But is it a documentary? And is that really fishing?
Umbilical
Country: USA
Year: 2007
Length: 10 min
Director: Jason Joven
A white girl comes between a dying African-American mother and her adopted Asian-American son.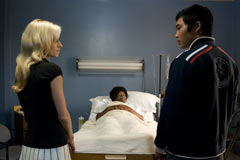 Animations 2007
Cold Calling
Country: UK
Year: 2006
Length: 4 min 30 sec
Director: Nick Mackie
A short film about getting revenge on annoying cold caller.
Coucou Clock
Country: France
Year: 2006
Length: 3 min
Director: Cailleau Francois
Objects of a kitchen take life when there is nobody. Their principal occupation is a match of darts opposing the corkscrew to the vase.
Georg wachst / George grows
Country: Germany
Year: 2007
Length: 2 min
Director: Martin Schmidt
Little George is just one year old when he experiences the shock of his life.
Lux
Country: SPAIN
Language: Catalan, Spanish, English, Arab and Urdu
Year: 2007
Length: 8 min
Director: Vuk Jevremovic
A journey through the stones of the old cathedral, La Seu Vella, discovers some hidden parts of its history.
Teat Beat of Sex
Country: USA/Italy
Year: 2007
Length: 4 min
Director: Signe Baumane
A woman's point of view on sex.
Documentaries 2007
Afghan Muscles
Country: Denmark
Year: 2006
Length: 58 min
Director: Andreas M. Dalsgaard
The young men of Afghanistan have discovered the art of bodybuilding. In a country ravaged by war, these men still hold on to their dreams; dreams of muscle, honour and fame, absolute control of the body in a world of chaos. Afghan Muscles is a story about dreams. The dreams we all share, but that are never the same. From the rubbles of Kabul to the skyline of Dubai we follow Hamid on a great journey to honour both his own dreams and his fathers aspirations.
The Forgotten Refugees
Country: USA, Israel
Year: 2005-2007
Length: 49 min
Director: Michael Grynszpan, Ralph Avi Goldwasser
The Forgotten Refugees explores the history and destruction of Middle Eastern Jewish communities, some of which had existed for over 2,500 years. Employing extensive testimony of survivors from Egypt, Yemen, Libya and Iraq, the film recounts the stories of "joy and of suffering" that nearly a million individuals have carried with them for so long. Segments on the contributions of Middle Eastern Jews to politics, business and music, testify to the enormously rich cultures which fleeing Jews left behind. The film weaves personal stories with dramatic archival footage of rescue missions, historic images of exodus and resettlement, and analysis by contemporary scholars, to tell the story of how and why the Arab world's Jewish population declined from one million in 1945 to several thousand today.
For All The Tea In England
Country: UK
Year: 2007
Length: 14 min
Director: Kerry McLeod
A tea break-sized glimpse into the many and varied ways that Britain's favourite brew is enjoyed today," and it's not always a simple case of tea bag and milk. From Xun, the self-confessed tea fanatic with a cupboard full of teas to Grazyna, who collects wild and wonderful teas wherever she travels, but for whom nothing beats the traditional cuppa, this film is a homage to the most popular hot drink in the world.
Rojeki Bafri / A Snowy Day
Country: Australia- Iraq
Language: Kurdish
Year: June 2006
Length: 10 minutes
Director: Hossein Jehani
It is early morning and the sky is getting brighter on a Kurdish village as it starts to snow. People gradually emerge from their homes and tend to their everyday chores. We follow a little boy visiting his father's grave and then to his house where his mother tells us about the death of her husband. During the Iraq-Iran war the area was covered by mines and the father died trying to retrieve one to sell it back to Iran for money. Every Friday the little boy visits his father's grave and pretends he is a soldier defending his home.
The Dali Triangle
Country: UK
Language: English
Year: 2007
Length: 55″
Producers: Maureen Murray & Clifford Thurlow
Ghostwriter Clifford Thurlow finds himself haunted by the ghosts from his book "Sex, Surrealism, Dali and Me":Â Salvador Dali, the surrealist painter, and Carlos Lozano, the galerista and Dali intimate who died 6 weeks after the book was published. What begins as a road trip through Cadaques, Figueras and Pubol – the so called Dali Triangle – becomes a portrait of Thurlow himself, of how a writer actually works and how this particular biography changed his life.
Features 2007
Bestiary / The Bitch's Diary
Country: CZECH REPUBLIC
Year: 2007
Length: 119 min
Director: Irena Pavlaskova
Comi-tragic tale of a woman's search for her identity in the labyrinth of relationships. Karolina, a young woman full of life and naivite, meets mysterious and elusive Alex. She throws her heart, and her body, at him only to fall hard. Deciding from now on to combat men with their own weapons of aloofness, indifference, and superficiality, she discovers with each new and more bizarre experience that this is a game she will have to learn how to play. Bitches are made, not born.
Chaurahen / Crossroads
Country: INDIA
Year: 2007
Length: 95 min
Director: Rajshree Ojha
Synopsis: Chaurahen (Crossroads) almost like snippets of collected photographs of everyday life. It brings together similar disconnected people in search or something to overcome the mundane of reality. A mixture between games of perception and reality, the absurdly comic and the absolutely accurate, a mystery and a family drama. The film traces patterns and drops hints through snippets of everyday for a chosen set of middle class individuals, only to reveal that their lies far greater drama in the ordinariness of ordinary stories than in the melodrama of spectacles. A film very different from anything seen in modern Indian cinematic narration.
Hardcore: A Poke into the Adult Film Orifice
Country: UK
Year: 2005
Length: 97 min
Director: Mark Withers
Documentarian Linda Boreman uses naive movie maker Jack Innov (A pseudonym) as the subject of her latest film, as he attempts to gather a cast and crew to shoot his first adult motion picture 'Assanova'.
La Mirada De Clara / Clara´s Gaze
Country: ARGENTINA
Year: 2006
Length: 93 min
Director: Pablo Torre
Clara's Gaze tells the history of Leopoldo, a modest photographer, who was Clara's pen pal and although never having met her, he asked her to marry him. Clara was a legendary Swedish beauty, but her eye sight was bad. She could only see through pathetic heavy glasses, which she did not want to be seen in while with her husband. This caused them marriage problems and she was advised by a fortune teller to stay out of her husband's bed. This she did although allowing him to take nude pictures of her, which eventually lead Clara to become a ghost actress of the dumb cinema.
By chance Leeopold discovered this, but by then she was comfortable in her new role as an actress, and all that success brought for her.
The history of the marriage of Leopoldo and Clara narrates an ambiguous history of love that is born and grows compares to the history of the Argentine cinema. It is the more or less legendary history of a family of film directors, with his secrets of alcove, their moments of History, tells that Clara was a long time in confessing her myopia to her husband. It is a history of parents and children confused by the passion of the cinema.
Le Chien / The Dog
Country: FRANCE
Year: 2007
Length: 80 min
Director: Christian Monnier
Kevin is a peculiar young man whose behaviour can sometimes be dangerous. He shares an isolated farmhouse with Jean-Claude in the middle of beautiful natural surroundings. Both men cohabit in a disconcerting silence. When Michele meets Jean-Claude, she considers him a casual lover. But the moment Kevin appears, she believes the time has come for her to give a meaning to her life
New York City Serenade
Country: USA
Year: 2006
Length: 95 min
Director: Frank Whaley
Childhood friends Owen and Ray struggle to figure out their lives, but their antics continually stand in the way. Tired of Ray's misbehaviour, Owen decides to make some changes in their relationship and his life.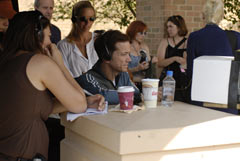 Olga, Victoria, Olga un tiempo sin tiempo / Olga, Victoria, Olga time without time
Country ARGENTINA
Year: 2006
Length: 89 min
Director: Mercedes Farriols
Barbara is overwhelmed by her reality and her father's pressure for her to leave the little natal city in search of new horizons abroad. One dawn, she returns with her boy-friend and friends driving at almost 60 m/h. Under the influence, they have an accident. Last thing Barbara sees before sinking into water is a suspension bridge from which the story of her grandmother Olga will emerge, bringing the understanding for this story and the History of all times.
Fated / Predestinado
Country: UK
Year: 2006
Length: 96 min
Director: Nicola Scott
A statue comes alive for one night. Never before has a simple kiss caused such chaos.
The Doorman
Country: USA
Year: 2007
Length: 80 min
Director: Wayne Price
The glamorous, jet-set lifestyle of New York City's most powerful nightclub gatekeeper goes into an abrupt and awkward tailspin when he loses his job, but fails to inform the documentary crew following him.
Uranya
Country: GREECE
Year: 2006
Length: 95 min
Director: Costas Kapakas
In a small village, five teenagers are eager to discover love and the whole world. Greece is living under the tyrannical rule of the military junta and its oppression is felt everywhere. It is in this atmosphere that the youngsters grow up on dreams, prejudices, secrets and lies. The summer of 1969 marks a turning point in their lives. Uranya is a very beautiful lady..
Catalogue 2007
Please click here to download the 2007 Marbella International Film Festival catalogue in .pdf format.