Shorts 2011
A man asleep / Un hombre dormido
Country of production: Israel
Language: Hebrew
Year of production: 2010
Director: Ophir Ben Shimon
Length of film 15:40
On his wedding day, a distracted groom's car hits a child, an event which raises crucial questions regarding himself.
Día de su boda, un coche del novio distraído hits deun niño, un hecho que plantea preguntas crucialessobre sí mismo.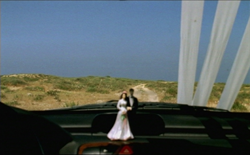 Dr. Zack
Country of production: Canada
Language: English
Year of production: 2010
Director: Yilmaz Vurucu
Length of film: 14 min
A mysterious book and an imaginary mentor guide Zack (7 years old) along the path to becoming a doctor. Will Zack find a cure for his abusive father and fulfill his destiny?
El misterioso libro y un guía imaginario de Zack (en siete años) en el largo camino hasta convertirlo en médico. ¿Encontará Zack cura para su padre y así cumplir su sueño?
Forms of Identification
Country of Production: USA
Language: English
Year of Production: 2011
Director: Kristin Tieche
Length of Film: 14½ mins