2013 Festival Dates and Submission Lines
We are pleased to announced that the 2013 Marbella International Film Festival will run from 2nd to 6th October 2013 and that submission lines are NOW OPEN. If you would like to submit a film, please read our submissions page first and ensure your film meets our rules and regulations before you submit your entry.
2012 Festival Award Winners Announced
The 2012 Marbella International Film Festival has now drawn to a conclusion and the winners were announced at our Gala Awards Ceremony. Please visit our 2012 Festival Information page to find out who took home these prestigious awards. Keep checking back as we'll be uploading images from the 2012 festival shortly.  Finally, all that's left to say is a huge thank you to you all for your interest, support and participation.
"Hola Marbella" by Andres Mata has won the prestigious 24 hour MIFF award. Click here to find out more and to watch the winning entry in its entirety.
Stop Press!
Please click here to view the latest press concerning the Marbella International Film Festival.
2012 Screening Program Now Online!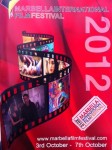 The Marbella International Film Festival screening program is now available to view on our website and as a standalone download in PDF format.
Click here to take a look.
Welcome to the Marbella Film Festival Website
The Marbella International Film Festival brings together artists and their films from all corners of the globe to display their talents to the commercial world.
The Festival is growing in stature and receives continuous worldwide accolade, recognition and support for its contribution to the arts.
The opulence of the Spanish area of Marbella naturally includes the quintessential sophistication derived by art and culture.
Delegates converge to celebrate the Festival over five days, culminating with a prestigious gala awards ceremony to recognize the best films in their category.
Within the film industry, we recognise that identifying potential film funding and gaining access to capital can often be difficult for film artists wishing to embark upon their venture.
We therefore create the opportunity for agents, distributors, film funders and sponsors to share with our talent.
With this in mind, it is our objective to not only provide the necessary start up capital for independent art projects, but also to offer hands-on support concerning all commercial aspects of the venture, making it possible to overcome any obstacles that potentially hinder the artist's ability to create. Find out more »
Latest News Live From The Festival
Submissions
Film submissions for the 2013 Marbella International Film Festival are now OPEN.
Please click here to find out more about our submission process, our rules and regulations, or click here to learn more about the festival itself and the opportunities provided by affiliation with such an esteemed event.
Sponsorship
The Marbella International Film Festival, where internationally reputed visitors and artists converge for a week of culture set in the luxurious Marbella and Puerto Banus, is growing in strength and worldwide acclaim.
Click here to find out how our individually tailored sponsorship packages could benefit you.
Venue
The 2013 festival's venue is The Andalucia Plaza Hotel, Puerto Banus. Find out more »