15th EDITION
28th October – 11th November 2020
Are you ready for unprecedented access to all films from the 2020 Marbella International Film Festival?
Due to corona-virus and lockdowns, MIFF dates have been changed to allow for online screenings of the films shortlisted for the 2020 Marbella International Film Festival awards.   The festival period itself has also been extended, and for the first time the general public will have the chance to view the films online and to vote for the films during the entire period of the festival.
The shortlisted films have now been announced and can be found below, and there are further details of how you can be involved here on our festival page.   The date for the award ceremony shall be announced in due course.
There's never been a better time to be involved!
Marbella Film Festival 2020 Film List
The Covid-19 pandemic has proved an industry changer in many ways, having a substantial impact on the film industry in 2020, halting film production and closing cinemas. For many smaller, up and coming filmmakers however it has provided an opportunity to provide quality releases on a smaller scale. Our Grounded Film Festival is the perfect opportunity to showcase these movies.
About The Marbella Film Festival
The Marbella International Film Festival brings together artists and their films from all corners of the globe to display their talents to the commercial world.
The Festival is growing in stature and receives continuous worldwide accolade, recognition and support for its contribution to the arts. We are delighted to now be entering our 15th Marbella International Film Festival, to be held 7th to 11th October 2020.
The Festival has expanded considerably since it's launch in 2006 and we now have additional collaboration and association with the Marbella Town Hall and Tourist Board, Marbella Film Office and the Andalucia Film Commission. During the Festival we host five glamorous evening events with many networking opportunities, culminating in the grand Gala Awards Ceremony.
Attendees come from all over the world and include filmmakers, industry professionals, exhibitors, dignitaries, celebrities and VIPs, special invited guests and the rich and famous of course! Click to read more
MIFF 2019 Award Winners and Nominees
The 2019 Marbella International Film Festival has drawn to a close and this year's festival had some truly outstanding film making from some extremely talented producers, directors, writers, actors, and additional cast and crew.
To conclude the festival was the prestigious Gala Dinner Awards Ceremony at H10 Andalucía Plaza, Puerto Banus, and the fantastic movie Trick or Treat took home the Best Feature Film award.  Click the button below to see the full list of award winners and nominees.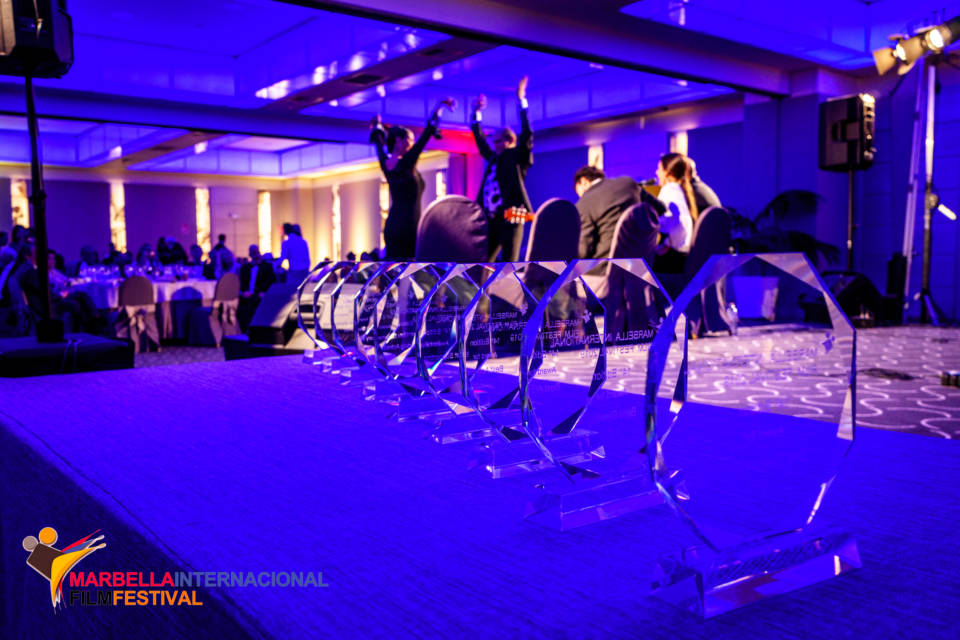 Latest Festival News & Photos
MIFF
Are you a filmmaker with a movie that you believe should receive global recognition? If so, you'll be please to know that submissions are now open for the 15th Marbella Film Festival taking place between [...]
MIFF
Marbella International Film festival continues to promote Marbella at the world Travel Market in London. Mac Chakaveh, represented MIFF at 2019 WTM in London, meeting with number of agencies and tourist industry professionals, promoting closer [...]
MIFF
Marbella International Film Festival was the guest of Bucovina Film Festival from 18th to 20th October 2019. Mac Chakaveh, director of MIFF was the speaker at the gathering of representatives of the regional film and [...]
Latest Press and Media
MIFF
Talk Radio Europe caught up with Kris Marshall earlier to discuss Trick or Treat, his latest feature film that premieres at the Marbella International Film Festival this week.   In the interview he discusses the [...]
MIFF
The festival is just a few days away and time is running out to snap up tickets and meet your movie or TV idols. Euro Weekly News is once again sponsoring the festival and with [...]
MIFF
British film Trick or Treat is set for its world premiere at the Marbella Film Festival on 5th October, SUR In English reports. A crime thriller featuring a host of well-known British actors will get [...]
Festival Over The Years
The Marbella International Film Festival has a rich history in the film industry, and a reputation for providing quality films from up and coming film makers.
The video above gives you a little look at the festival in its early years.
Looking Back to 2016
The 2016 Marbella International Film Festival was a roaring success, drawing plaudits from the talented participants and worldwide media alike.  The quality of the films in 2016 was higher than ever, but which films, actors, actresses, and directors took home the prestigious awards?  Find out right here.
Did You Miss… ?
April In Quarantine Time
Country:
Italy
Language: Director:
Luca Fornasiero
Length:
6 mins 52
Year:
See more films from
here
.