Hotel
The 2014 festival's venue is The Andalucia Plaza Hotel, Puerto Banus.
Auditorium
The Auditorium has a total capacity for 1.520 seats with working desks. The distribution in amphitheatre allows a great vision from any side of the room. They are provided with the most advanced technical and audio-visual equipment, such as wi-fi system, simultaneous translation and videoconferences.
The Auditorium totally open possess a central stage and two smaller stages on both sides. The maximum height of the Auditorium is 5,83 m and the minimum is 4,00 m. The principal stage has a length of 12,43 m, a width of 12,67 m and a height of 4,60 m. The main Auditorium can be split into three independent auditoriums, offering the possibility of hosting three different meetings on the same time. The capacities vary between 440 seats in the smallest auditorium and 593 seats in the biggest one.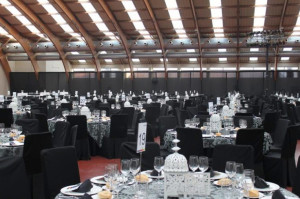 Exhibition Pavilion
Marbella Congress, Fairs and Exhibition Centre offers in the first floor the Exhibitions Pavilion, with a diaphanous area of 3.112 sq. mts. that allows the celebration of fairs of diverse nature. It is the ideal place to enjoy gala dinners, awards celebrations, commercial exhibitions, presentations and fashion shows, among others.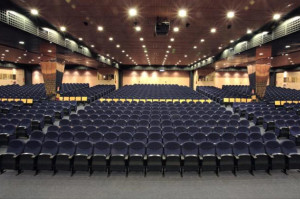 Blue Room
The Blue Room is situated on the first floor, this is the biggest conference room, with a total capacity of 208 people, on school style (fixed seating with folding table) Dimensions are as follows: Length 12,30 mts., Width: 15,75 mts. and Height: 4,00 mts.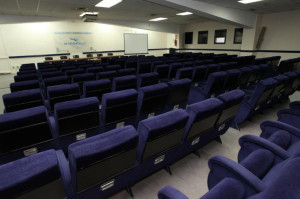 Syndicate Rooms
The Auditorium is surrounded by five Syndicate rooms with an area of approximately 100 sq. mts. and capacity for 90 people each one. All of them have natural light and provided with the equipment to be used as meetings rooms, rest areas, vip areas, press rooms, offices, workshops, etc.
Hall
The Foyer or Main Hall offering 830 sq. mts. is the access for the Auditoriums. The perfect location for business lunches, cocktails, coffee breaks or art exhibitions. It has an area on both sides for catering services or technical secretaries.
Dimensions are as follows: Length 54,15 mts., Width: 14,4 mts. and Height: 3,80 mts.
Pre-Hall
The ground floor offers the main Auditorium, the Pre-Hall, the Hall and five Syndicate Rooms. The main entrance or Pre-Hall offers an area of 350 sq. mts. with no pillows. It is the ideal location for cocktails, coffee breaks and art exhibitions. Dimensions are as follows: Length 24 mts., Width: 14,5 mts. and Height: 3,80 mts.
Marbella
Marbella, meaning Beautiful Sea in Spanish, is a world renowned destination located in the Sunshine Coast. It lives up to both names: long sandy beaches bordering the clear, sparkling blue Mediterranean boasting the best possible sunny weather year-round. Through its history it has become a marvellous city offering all that visit the true taste of Andalusia: whitewashed buildings bordered by narrow streets, wonderful flower filled plazas and corners, horse drawn carriages lazily taking its passengers on a relaxed tour through yesteryear, friendly and open people, quaint churches and exciting nightlife.
Storybook beaches; countless golf courses that challenge any player no matter what their handicap; sports marinas world renowned; an unbeatable natural surrounding on the slopes of the sierra that protects the entire area, offering it an enviable microclimate; world famous hotels; restaurants; shopping centers and boutiques catering to all needs and an exciting and intense nightlife make Marbella the ideal setting for your holidays or business meetings and conventions – even if you mix them together.
Marbella is close to the major metropolitan areas and cities imbibed in rich history and tradition such as: Málaga, Córdoba, Granada and Seville; or the enticing and mysterious North African destinations, just a ferry ride away from Algeciras – gateway to Africa and its also millenary cultures.
What was once a sleepy port and fisherman's village, has now grown up into a vibrating and cosmopolitan city… the perfect blend between tradition and modernity.
Climate
Protected by the surrounding Sierra Blanca mountains, Marbella boasts an ideal microclimate with a median year-round temperature of 22ºC, topped by 326 days of sunshine.
Use this LINK to check what the weather in Marbella is like right now.